Videography
These days I'm primarily working as a Steadicam Operator however I do have significant videography experience on corporate, documentary, and dramatic projects. I can gather creative b-roll, shoot interviews, and am adept with videography in unstructured documentary situations.
I have a proclivity for shooting dynamic, dramatic and visceral situations, (dance, bands, fashion, construction, demolition, music videos, surgery), but am also adept with low key situations where technical and aesthetic fundamentals are required (for interviews, documentaries and "b-roll"). View some samples here. I have an extensive background in Dance Documentation and Steadicam Operation. I am based in Chicago, minutes from The Loop. Various work samples can be viewed on my Demo page.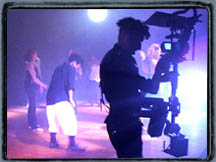 Corporate/Commercial projects as Videographer
BCBG Max Azria, Boston Consulting Group, Citadel, CVS, Dyson Vacuums, E.P.A., Ford Motor Co, First Nonprofit Group, Frank N. Magid Associates, Gary Comer College Prep, Gilllette Razors, Hilton Hotels, Human Rights Watch, Kashi Cereal, Kellogg School of Business, Kerry Ingredients, Magnificent Mile Association, Montel Williams Show, National Demolition Association, Navistar, Power Plate, Robinette Demolition, Sacred Heart Schools, Sears Chef Challenge, Seattle's Best Coffee, The Second City, Seqway Chicago, Shedd Aquarium, Underwriters Laboratories, United Airlines, Univision TV Promo, US Gypsum, Vitamin Water, What the Sell?!, Yale Forklifts, Yes Network: Ultimate Road Trip.
Corporate/Commercial projects as Steadicam Operator